Bluecordfishermen provides the same kind of details you would expect to find at any boat ramp except we share the good spots.  You can find all the things you need to get started from the best spots to catch fish; how to get to back country native brookies; to where to get breakfast.
Our blog is for those near Fort Bragg, Fort Indiantown Gap or slaving away in the Pentagon who want to start fishing again.  I know your time is valuable and I hope these reports get you on the water faster and have more to show.  If your lucky, you can introduce fishing to your kids.  Fishing is always fun but its a lot more fun if you are catching.
By the Numbers:  Married 34 years;  Father of 4 Young Adults;  Grand Father of 5; Native of Pennsylvania transplanted to Texas chasing Grand kids.  24 years of Service in the US Army as an Infantry Officer (The Blue Cord).
SO WHAT:  I've traveled around to a lot of places on assignments and Temporary Duty (TDY).  I have fished a  lot of different places  including Camp Victory at Baghdad Iraq and 11 states in the continental United States.  24 years of time in uniform plus another 10 years as a Department of Defense contractor gave me the opportunity to do a lot of travel.   When possible, I pack a rod and tackle when I travel.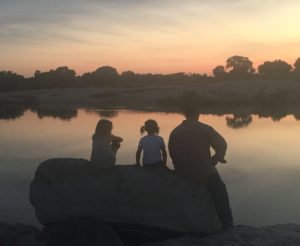 Our goal:  Provide pointers on fishing to service personnel, Veterans, and others about fishing near military installations. The old adage, of amateurs talk tactics and professionals talk logistics, applies.  Our aim is to  provide details to get started fishing at a new destination (Fort Bragg, National Capital Region)
Favorite Fishing Spot is in Texas on the Medina River with my grand-daughter.