Big Muddy Lake Camp Mckall NC:    Lat / Long:  35.022959  -79.487717
Description:
Big Muddy Lake is a managed bass lake located on Camp Mackall NC. Camp Mackall is an large federal tract of land west of Fort Bragg and South of Southern Pines NC.  Southern Pines NC.  It's a long way from main post.  Big Muddy is a 55 minute drive from Main Post on Fort  Bragg NC.  This lake is roughly 270 yards wide at the east end and 1120 yards long. This size makes for some excellent cardio workout as well as fish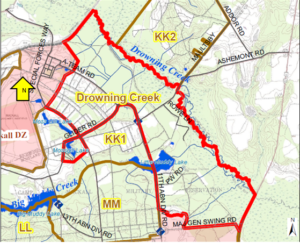 ing.  Big Muddy Lake contains the typical mix of sunfish, bass, catfish and pickerel.   This lake has some stumps with many of them submerged just below the surface.  The shallow parts of this lake have a lot of aquatic vegetation.  Several man made penisulas penetrate the main lake but are over grown.  You can find some great fishing holes adjacent to these man made features.  There are two places to launch kayaks but the best is the primary boat ramp at the North East corner near the dam breast along 13th Airborne Division Road [LAT/LONG:  35.024390  -79.487600].
Access:
First off, keep in mind you may not have cell phone access this far out from Southern Pines and Fayetteville NC.  Enter Camp Mackall from the east side using either US 501 or NC 211. If you are driving from Fort Bragg, use the southern road (Plank/Chicken Road) to head west toward Camp Mackall.  Pass Mott Lake and keep heading west.  When in doubt, follow the signs.   Pick up Army road off of NC 211 and head west.  Army road becomes Ashmont Road after US 501.  Continue west on Ashmont road to the sign at the entrance of Camp Mackall and choose the left turn heading south.  This road will skirt the airfield and main post which are both off limits.  Remain on the main road to avoid interfering with training taking place at Camp Mackall.  South of the airfield take 13th Airborne Division Road south and you will come up on the dam breast across Big Muddy.  I do not know of an easy route from the west from US Route #1.
If you turn south too early you will drive to Luzon Drop Zone.  From Luzon DZ skirt the north boundary of the drop zone and head north on 13th Airborne Division Road.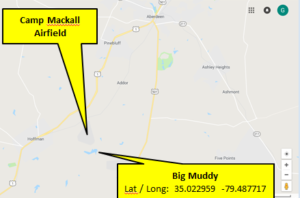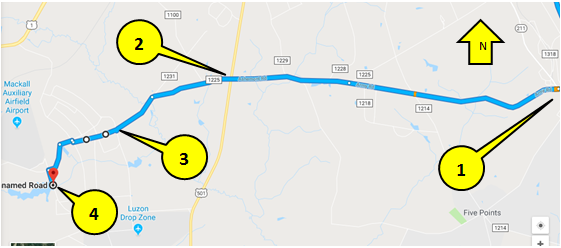 Point #1   [Lat/Long: 35.046482  -79.338721 ] Intersection of Plank Road and NC 211 (Aberdeen Road).  Plank becomes Army Road west of NC 211.
Point #2   [Lat/Long: 35.048954  -79.434766 ]  Intersection of US 501 and Ashmont Road.
Point #3  [Lat/Long:  35.036941  -79.468088]  entrance to Camp Mackall.
Point #4  [LAT/LONG:  35.024390  -79.487600] is the boat ramp.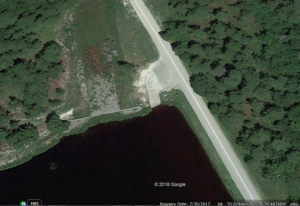 Launch Site:  Boat Ramp has parking and is a concrete ramp.   This makes for an easy launch whether you are using a john boat on a trailer or at Kayak.
Bank Fishing:
Vegetation makes getting to the lake from the shore difficult with many parts of the shore being swampy in the transition from firm ground to the lake.  Limited access is available from the picnic area that is found on the south side of the dam breast.  The dam breast is well maintained and offers easy access to the lake but I have never had any luck from this dam breast.  The west end where Big Muddy Creek enters the lake is very swallow.
HOT SPOTS.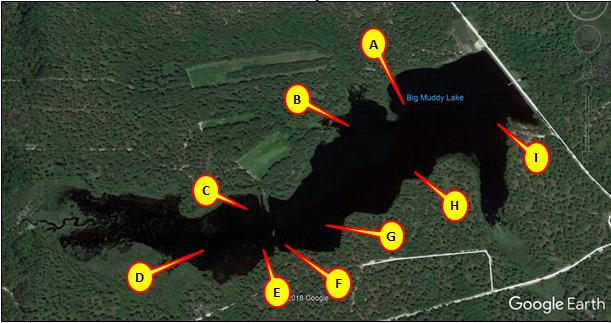 A:  Lots of aquatic vegetation but the deeper holes are open.
B: Stumps and vegetation
C: Openings in vegetation
D:  Shallow but pickeral are near the vegetation lying in ambush.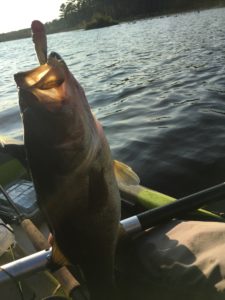 E:  Very productive location with deeper hole near the man made jetti.
F:  Most productive location on the lake.  Caught biggest fish of 2017 at this hole.
G: Cover from bank has bass and pickeral.
H:  Working the shore line for bass.
I:  Old dock has pickeral underneath it.
Editor's Opinion:
The drive to Big Muddy has always been worth the time.  Biggest bass I caught in 2017 was out of Big Muddy on a September afternoon.  Big Muddy has lots of options.  So many that it would be tough to hit them all in a single day. This is one of the few lakes on Fort Bragg/Mackall that has a concrete boat ramp.
LOGISTICS.
Hotels:  Everything from the very luxurious Hotels at Pine Hurst to the mom and pop places in Southern Pines along US 1.
Chow:  Numerous franchise fast food places are found in Southern Pines.  Some great mom and pop diners are in Southern Pines.  Located on US 1 is Mac's Breakfast Anytime is worthy of a road trip from Fayetteville/Fort Bragg.  Cracker Barrel is located West of US 501 and US 1 intersection.
Tackle:  Southern Pines has a Dick's Sporting Goods store and several other big box stores and is located West of US 501 and US 1 intersection near Cracker Barrel.
Safety Considerations:
Big Muddy is often windy especially in the Spring and Fall. Make sure you have a life preserver on board your craft.
Many submerged stumps as far out as 50 yards from shore.
Most parts of Camp Mackall are not covered by cell phone.
Big Muddy is remote/isolated and not often fished. You most likely will be alone for the entire day other than troopers training nearby in the woods.  (you will hear the artillery simulators, machine gun and small arms blank fire during raids and ambushes)
Back in the mid 90's, I saw an alligator on Camp Mackall while I was hunting. I'm not saying Big Muddy has alligators but it is possible.