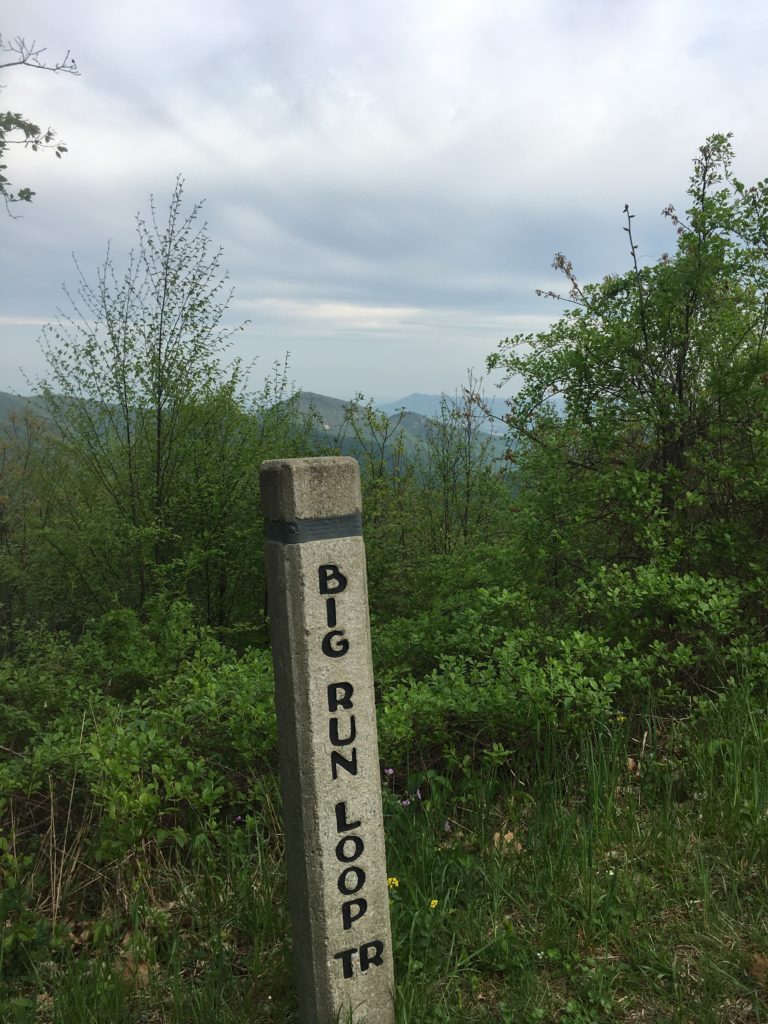 Big Run LAT/LONG:   38.253711 -78.684289
Description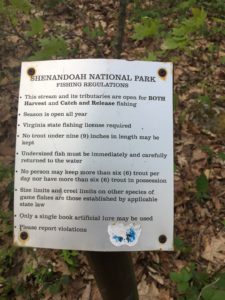 I hiked into the Big Run Valley and camped over night: 12-13 MAY 2018.  Big Run is the largest drainage basin in the Shenandoah National Park.  Big Run Overlook is at mile post 81 and runs west through a wilderness area into the Shenandoah River .  This area is accessible only by foot and the trail head in the park is at the Big Run Overlook (mile post 81) or the Big Run Loop Trail at Brown's Gap (mile post 83).  Big Run contains Brook Trout, Hornyhead Chubs, Fall Fish and other large minnows.
This is one of the few places in the Shenandoah National Park that is not catch and release.
A hiker informed me that the water level was two feet higher from spring rains the previous week.  I said the creek was fordable at considerable risk.  Over the period of one week the water level dropped where it was easy to find crossing sites where you can keep your boots dry.
http://www.switchfisher.com/trout_content/virginia/west-slope/BigRun.html
Access
Climbing down off the sky line drive and back is not for the pudgy, out of shape older  fishermen.  Make a hard assessment of your ability before descending into the Big Run Valley.  There is no vehicle access to Big Run Wildlife area in the Shenandoah National Park. There are no helicopter Landing Zones.  For the east coast, its as remote as you can get.  From the National Park perspective, its intentional:  The Preservation of Wilderness.  Any rescue attempts would require significant resources.  This is not to frighten fisherman off, its a statement of risk and you need to access where you stand physically to encounter entering a wilderness area with an exit that includes over a 1200-foot climb.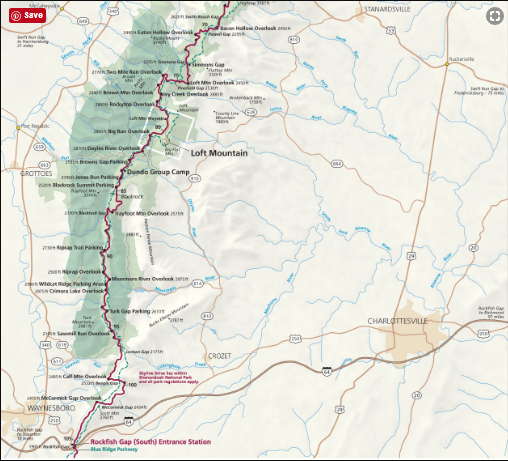 First drive to the I-64 / US 250 intersection (Waynesboro) and exit toward the Skyline Drive and head North on Skyline drive to the check in station [38.037791 -78.8558].  The entrance fee is $25.00 for a 7-day pass.  This is where you can pick up a back country camping permit and where you need to provide the permit to the Park  Ranger.  The cost for the back country permit is nothing.  You can simply drop the permit off in the drop box if the Ranger is not present.
Two options are available to hike into Big Run.  Browns gap/Big Run Loop and Big Run Overlook/Big Run Loop.  I selected Big Run Overlook since it appeared to have the best decent.  I took 2 hours to get to fishable part of the stream from the Doyles River Parking area.  Getting out took me 2 hours to climb out.  I have nothing to offer on the alternative route.
I was surprised to see over 20 people over the course of the day on a Saturday.  Most were day hikers and were camping at Loft Mountain Camp site.  This is an alternative if you are not certain that you can pack in gear to overnight near Big Run.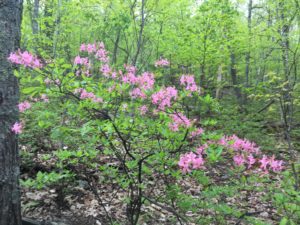 The best map I found depicting the terrain is below.  To begin, park at the Doyles River parking area that is directly adjacent to the Big Run Overlook. It might be 150 meters away from the trail head. The initial part of the hike is a big zee switchback. First leg is 10 minutes.  Second leg of the switchback is 25 min. and the last leg of the switchback is 25 minutes.  You know you are close to the end of the switch backs when you cross over a notch over a mountain stream.  The second portion involves a long finger/ridge line that butts out from the main ridge.  This trail makes a hard right turn heading down into the valley.  At this point you are 45 minutes from the fishable part of the stream.  At the bottom of this leg, is a stream crossing shortly followed by the intersection with the Brown's Gap portion of the Big Run Loop.  From here down the terrain "flattens" with the stream bottom but it is still a steady decent.  Going the other way, the climb on this leg is slightly easier than the switchback and ridgeline.  The leg from the bottom of the ridge to fishable parts of Big Run is a 30 min.  After crossing a creek, you are pretty close to pools with brookies.  They may be found up stream but Big Run is at best a mountain brook/stream at this point.  I saw several tempting fall pools but the climb from the trail to the stream is enough to not allow it to distract from getting to good fishing.  Good camp sites are easily found along the trail heading down stream.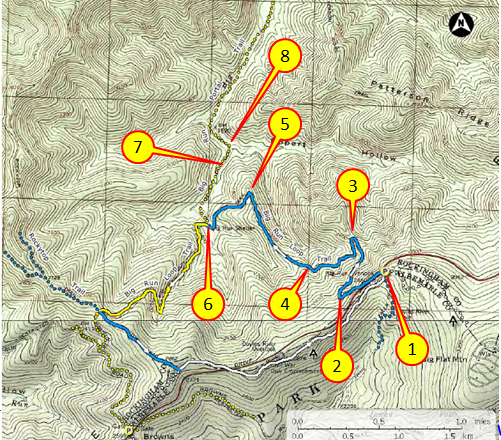 I dropped my pack at the first Big Run Stream crossing at an easily identifiable location.  I do not cache my ruck.  If someone needs something I have this deep in the woods.  They are welcome to it, do not misinterpret need and covet.  From here I change from boots to wading shoes and hiked down stream for 45 minutes past Patterson Ridge Trail intersection.  I stopped a few spots going down just to get my line wet and catch a few.  I worked my way back up to my rucksack and set up camp around 6 pm.
Going in its all down hill.  Coming out is a significant climb.  I have seen 1900 feet plus in several blogs based on Garmin readings.  Since this trip was in May, I had to make decisions based on temperature.  I chose to exit early before it got too hot.  The day I went in the temperature was in the 90's by the afternoon.  I knew I could not hike up the mountain in those temperatures and left camp before 0900 am.  The temperature was in the 70's and I got to the top before 1100. The climb was challenging but not impossible.  The temperature rapidly reached the 90's.  That would have made climbing out a memorable event.
Navigation is easy, but it can get confusing where several stream meet at the train junction near Big Run and  Patterson ridge trail.  The Trail intersections are well marked by concrete markers (see picture).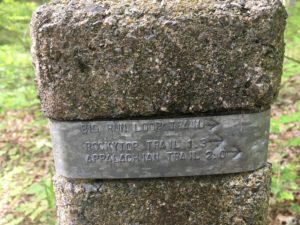 https://www.alltrails.com/explore/trail/us/virginia/big-run-trail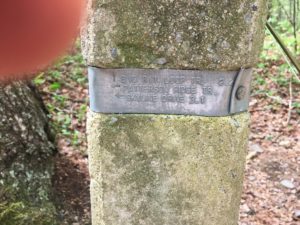 #1 Doyles River Parking area [38.254268 -78.682670]
#2 Big Run Loop Trail Head and Over Look [38.253711 -78.684289]
#3 Switch Back
#4 Ridgeline/FingerTrail Intersection with last leg of the switchback
#5 Final drop off the Finger down to the creek
#6 Intersection of Big Run Loop with Big Run Portal
#7 Approximate location of Camp Site and start of fishing
#8 Intersection of Eckert Trail/Stream and Big Run.  Be Careful when heading up stream to not miss this point.
Hot Spots
I caught fish at the heads of pools, In the ripples behind rocks, In large Pools.  Brookies were everywhere.  Hornyhead Chub nest were all over.  I caught all the fish on nymphs.  I did not notice any rising fish.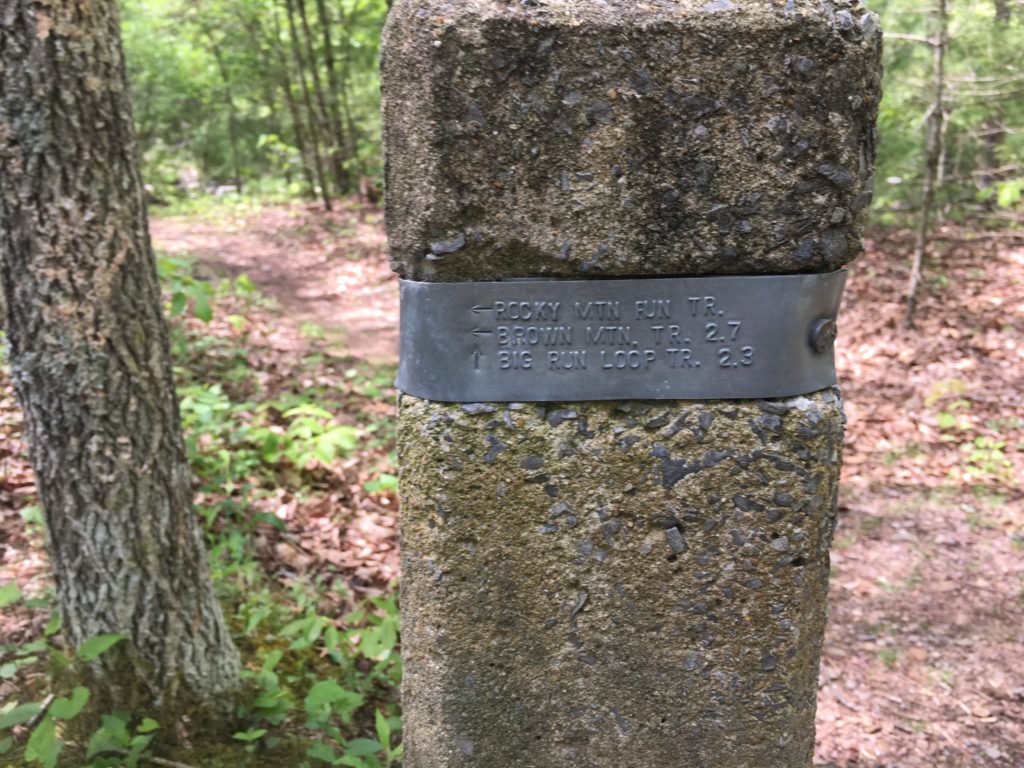 I had my best success at the heads of large pools where the main channel entered.  Over the course of Mid day on Saturday and 8:00 AM on Sunday, I caught 12x fish.  5x Fall Fish or Horny Head Chubs (biggest was nine inches) and 7x Brook Trout.  The largest Brookie was 8 inches.  I missed about another 6 Trout.
It was a hot afternoon over 90F and I was whipped by 6:00 pm.  I spent sun set sitting on a large log over the creek smoking a cigar and sipping some brown liquid and watching minnows in a long pool of shallow water adjacent to my camp site.  I was up with the birds at first light and caught several before packing up to head out.
Important info I got from a fellow hiker, who was heading out while I was going in, was about the points farther down stream.  These spots were farther down stream than I hiked where Big Run gets larger with longer pools.  He caught small mouth bass in these pools that were beyond the Park Boundaries.
Logistics
Lodging.
Camping in the Shenandoah National Park is available at Loft Mountain.  Website  is available to reserve a camp site, but that does not apply to  Loft Mountain is http://www.recreation.gov.  Loft Mountain was packed when I went in to check. From Loft Mountain, you can hike to the Big Run Trail head that is slightly over a mile from the camping area using a trail. Back Country camping is available and only requires registration.  If you want a bed and a roof, Waynesboro has lots of alternatives and franchise hotels.
You can email the park service and they will mail you the permit and map or you can pick these up at the Ranger Station at the entrance.
Food.
Loft Mountain Camping are has a store that includes camping food, equipment and souvenirs. [LAT/LONG: 38.250755 -78.666953]
Bring items that are well packaged to prevent wildlife from detecting food.  Water is available at Loft Mountain.  Treat any water from the local streams with iodine tablets or a filtered strainer.  Pack out all trash.  Open fires are not permitted but I did smell a camp fire the night I spent in the woods.  (Fire arms are also prohibited, but I saw several hikers with open carry.)
I carry trail mix and a couple of MRE's.  I always carry food out and pack too much.
I took 5 quarts of water and that was adequate.    I used iodine tablets but only drank half a quart of that water but treated enough for an additional 3 quarts.  Purchasing a filter pump on my list.
Tackle.
Shorter rods are best.  I met a couple of rookie flyfishermen trying to use 8'6″ rods and they were struggling.
Bring lots of tackle.  The trees along the creek tend to keep you flies if you get caught up in the branches.  Nymphs were the way to go.  I had no strikes on dry flies even in the evening and morning hours.  I had a lot of success with nymphs that had a 1/4 inch of red on the body (Caddis Royal).  Both nymphs with bead heads and without bead heads were successful.
Safety Considerations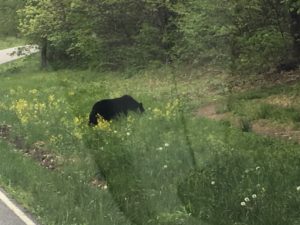 Water level needs to be considered.  Spring rain can raise the depth considerably to the point of being a safety issue.  Check about water levels  before heading into the wilderness.
 Bears are all around you in Shenandoah National Park.  I saw two.  Be smart with you food and trash.  The picture to the right was taken on the Sky Line Drive just south of the Big Run Overlook near Brown's Gap.  I saw a second one just around the bend in the picture.  This guy was very tame but would not pose.
Snakes.  I had a water snake, type unknown, got aggressive when I fished the pool he thought was all his.  I gave him the field advantage and moved on to then next ripple up stream.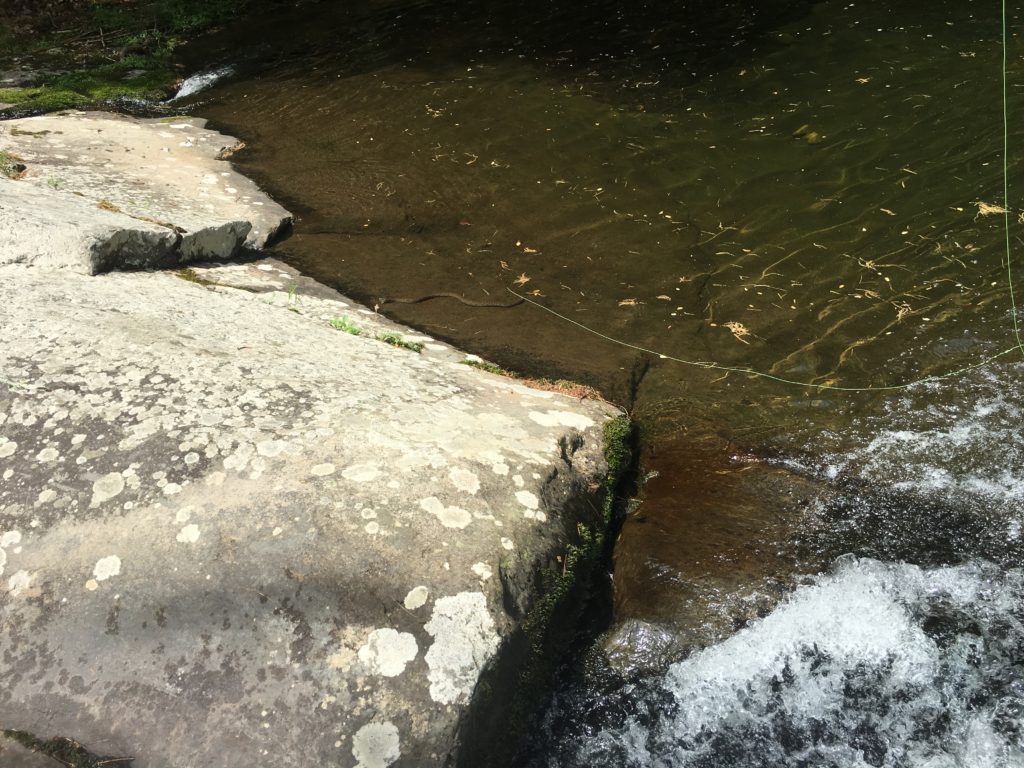 4. There is no cell reception once you get off the ridge line where the sky line drive is located
5. For back country camping, you need to registrar at the Ranger Station at the entrance to the sky line drive.  It was easy and I did this before the gate was manned that morning.  Just dropped it in the box.
6.  National Parks do not allow guns.  Open carry is asking for confrontation with Park Rangers, but you will see an occasional hiker exercising his right to open carry.  I think all you need is a good exercise of common sense to protect yourself from the wilds of the Blue Ridge.