Jeremy's Run, Shenandoah National Park.  LAT / LONG:  38.73849  -78.3102
Background:
I was on a business trip (TDY) to Reston VA over the Veteran's Day weekend in November 2017 and used the great weather to fish the mountain streams that are found in the Northern portion of the Shenandoah National Park.  At this time of the year, the trails running off the Sky Line Drive do not have a lot of traffic.  On any given day that weekend, I only met two or three people on the trail.  This long weekend gave me the opportunity to fish for native brookies before it got too cold.  Temperatures were below 30F at night, but in the forties during the day.  The days varied from overcast to sunny, but it was great weather for hiking and fishing the mountain streams.  Each day I drove out to a different destination, hiked in, fished and hiked out.  I took a light ruck with emergency gear and tackle just in case I got caught out in the elements.  Some of the best trout fishing I've ever done catching double digit numbers over the course of the three trips.
Description:
Jeremy's Run finds its head waters near the Skyline Drive between mile marker 21 and 22.  About 2 miles downstream, Jeremy's Run is fishable and supports native brook trout.  This is strictly catch and release fishing .  No live bait is permitted.   Artificial lures only and they must use single hooks:  no treble hooks.  The trail parallels the stream once you get down to the valley.
https://www.dgif.virginia.gov/fishing/trout/
This is a creek that can be easily crossed jumping from rock to rock without getting your feet wet.  Waders are not needed.
Peter's Approach:
I left Fairfax in the early morning and made my way to Front Royal on I-66.  I exited the interstate and pulled into the access to Skyline Drive and paid the 7 day user fee to use Skyline Drive. I was at the trail head by late morning because I was distracted by the views on the Skyline Drive. The trail head is difficult to find but its behind the latrine at the picnic area for

Elkwallow Gap.  This is not the same parking lot as the general store at Elkwallow.  The picnic area is marked and is past mile marker 24 heading south.  The trail heads into the valley and at the bottom changes direction heading west to follow the Jeremy's Run.  After 30 minutes on the valley floor, the stream becomes fishable and you can see trout and fish by sight.  I headed another 20 minutes and started fishing back up stream.  This only left me 90 minutes to hike out before dark.  The short time span flew by as I caught several brookies.
Peter's Observations: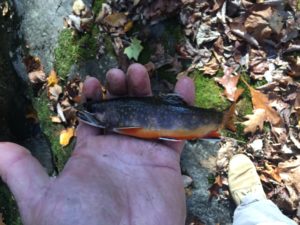 Jeremy's Run lives up to the write ups you can see on several blogs.  It is easy fishing and easy to get to.  I will return with the thought of an over night trip to get more than 90 minutes of fishing.  Nymphs were taken all afternoon.  If I could see the trout, I could catch him.  You do not need a lot of skills to fish a creek this small.  If you are just starting out, Jeremy's Run is a great stream to learn how to fish using nymphs.
Access:
Enter the Skyline Drive at Front Royal and head south to mile marker 22.  Park at the picnic area and find the trail head behind the latrine and hike in.  An easy 90 minute hike will get you to where the trout are.  The route back is the reverse.  The climb is not bad and the trail uses switchbacks when the climb gets steep.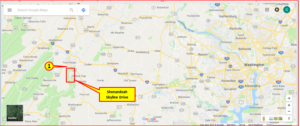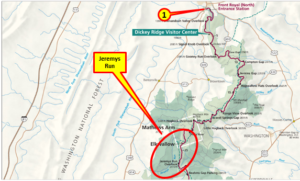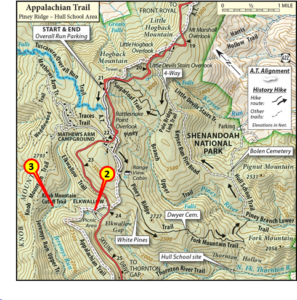 Point #1    Skyline Drive Entrance at Front Royal
Point #2    Elkwallow Picnic Area and Trail Head  LAT / LONG:  38.73849  -78.3102
Point #3    Approximate point when trout start to become visible
Fishing Jeremy's Run:
This is a catch and release area and limited to artificial lures only. 3 or 4 weight fly rod is more than enough for this mountain stream.  A short rod is better (7'-6")  Nymphs were my choice.
Timing:   Nymph fishing can take fish anytime during the day.  I caught several  trout after  2:00 PM before starting to hike out about 3:30 PM.  Traffic on the trail was low and I saw one fisherman that afternoon and one couple hiking out as I was hiking in.  There is not a lot of traffic in November.  I would imagine that there is much more traffic in the Spring.
LOGISTICs:
Minimal considerations.  Anything you could need is found in Front Royal depending on which way you approach the entrance to the Skyline Drive.  Washington suburbs are only 45 minutes away including Cabelas.
Lodging:  Front Royal has every imaginable hotel franchise and price range.  .
Food:  Plenty of convenience stores are located in Front Royal.  I've eaten three suppers at Catiglia's located at 328 Remount Rd, Front Royal, VA 22630.  Every meal was excellent and very affordable.  Just a great way to come in from the cold and finish the day with a pasta treat.
http://www.castigliasva.com/locations/front-royal/castiglias-italian-restaurant-pizza-Front-Royal
Tackle:   Front Royal has several local sporting goods stores.  Cabelas is located near Fairfax VA at the intersection of I-66 and US 29.  The Washington Suburbs have several Dick's Sporting Goods and other options to get tackle.
Emergency Planning:
Do not expect Cell Phone coverage beyond the Elkwallow Picnic area.
Carry basic emergency kit and signal whistle.
Watch the weather for extremes.
Store food at camp sites accounting for bears.
Basically, think things through because help is no where near by.
Take a buddy. Do as I say; not as I do.