Quitapahillia Creek, Lebanon County PA  Lat / Long:  40.3243 -76.5126
Description:
The Lenape name for the Quittapahilla is Kuwektəpehəle which means: Flows out of the Pines.
The Quittapahilla Creek runs 17 miles through Lebanon County and directly passing through the Town of Annville PA.  It empties into the Swatara Creek near Bindnagles Church along Gravel Hill  Road: [LAT/LONG: 40.348767  -76.615405] .  It's a limestone feed creek and runs cold through the summer.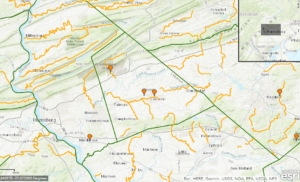 Deep holes and lots of submerged logs give trout a great environment and a challenge for fishermen.  The hard work of several groups have brought life back into the Quitty to where it now is a great trout stream nestled in the heart of Lebanon County.  A 1972 Report stated that the Quittapahilla was an open sewer.  Today it's a County treasure.The following websites offer a lot of details about the Quitty.
https://www.youtube.com/watch?v=JHWVJiPi5_Y
http://www.dftu.org/projects/quittapahilla-creek/
http://www.quittapahillawatershedassociation.org/photos.html
Access:
The Quittapahilla has many access points.  Do the right thing and Obey No-Trespassing signs where posted.
Point #1:  Trailhead to Quittie Park Annville PA:  [LAT/LONG:  40.328529  -76.507665]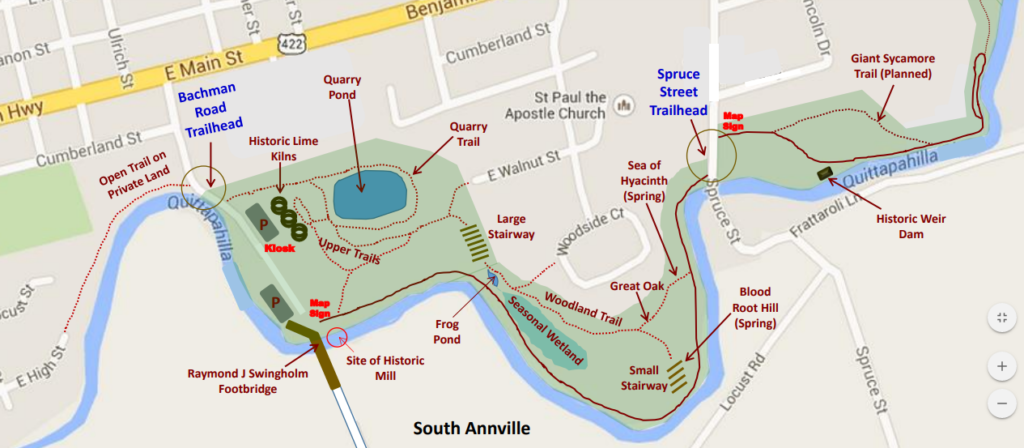 http://Quittie Park Annville PA: http://www.fooa.org/wp-content/uploads/2014/07/quittie-park-map-4-29-2014.pdf
https://www.facebook.com/pages/Quittie-Creek-Nature-Park/166209323407431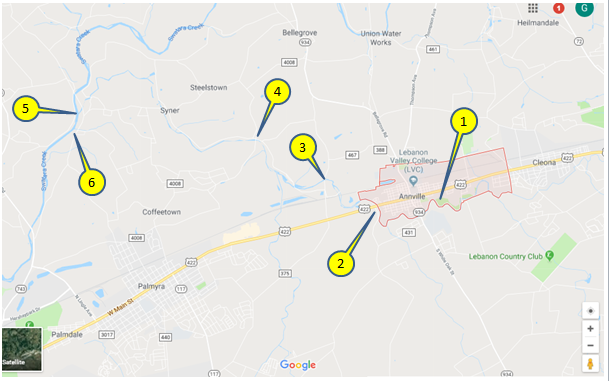 Point #2: Annville US 422 Bridge:                                [LAT/LONG:  40.32740  -76.525606]
Point #3:  Clear Springs Bridge:                                [LAT/LONG:  40.33333  -76.54156]
Point #4:  Palmyra Bellegrove Road Bridge:                    [LAT/LONG: 40.342596  -76.561578]
Point #5: Intersection of Swatara and Quittapahilla: [LAT/LONG: 40.348767  -76.615405]
Point #6:  Old Site of Bindnagles Bridge:                 [LAT/LONG: 40.344838  -76.616667]
Note: Lutherans have been in Palmyra since its beginning. The town's founder, John Palm, worshipped at Bindnagle's Lutheran Church north of Palmyra between 1776 and 1799. http://www.palmlutheran.org/welcome/history
Launch Site:
Kayak Launch Sites are unimproved and simply put in off the bank with limited parking.  A kayak would be a blast on the Quittapahilla.  You could get to a lot of spots that are not fished very often.  It's a new bucket list item.  I recommend floating the stretch from Point #4 to Point #6 and getting out at Bindnagles Church.
Point #1:  Annville Quittie Nature Park.  Plenty of parking at Trailhead to the park.
Point #4:  Palmyra Bellegrove Road intersection with Syner Road Bridge on east side of the Bridge.
Point #6:  Old Bridge adjacent to Bindnagles Church is great place to get off the water.  The church parking lot is the best spot to place the vehicle.  I have caught nice size trout in the Swatara down stream from the Quittie.
Floating  by inner tube was a full afternoon to go from close to Point #4 to Point #6.
Bank Fishing:
Please observe no-trespassing signs if posted.  Easy fishing in Annville where the Quittie flows through the Town Park and west out of Town and crosses US 422 on the west side of Annville.  This area is restricted to artificial lures so be sure to check on local regulations.  Bank fishing was excellent near the Clear Springs Road Bridge on both sides of the bridge [LAT/LONG:  40.33333  -76.54156.  There is limited parking along Clear Springs and it gets a lot of fishing pressure.    If you are located down stream from the artificial only sections, corn will catch fish in the deep holes.  The Quittie is deep in many spots, chest waders are best but hip waders work if you can find a way into the stream.
Timing:
Stocking dates drive this but typically mornings are best.  Opening day is a little crazy on the First Day of Trout Season.  Fishing Pressure will back offby the end of April but you can see fishermen on the Quittapahilla all season long.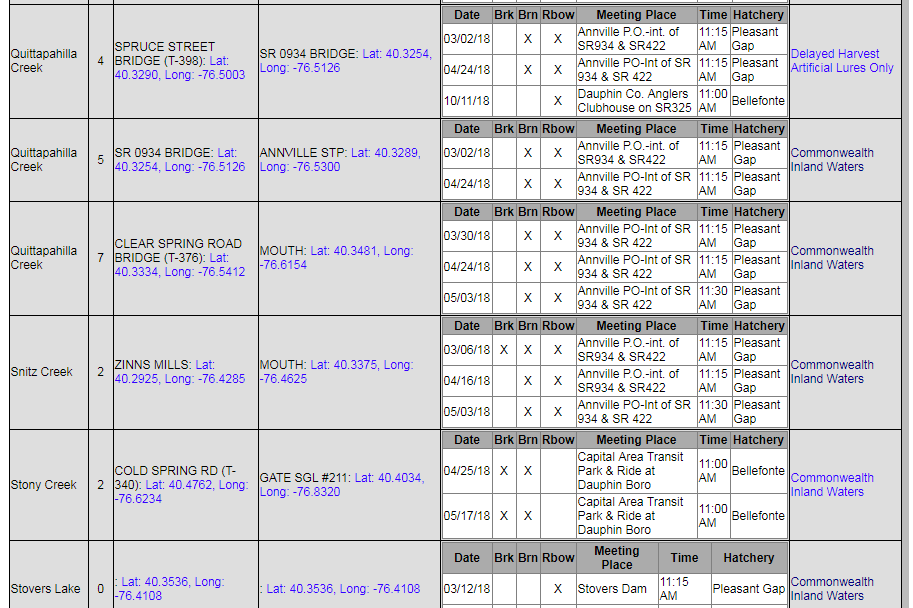 Editor's Opinion:
The Quitty is a great location for a quick trip after work or on a weekend evening.  It's Lebanon Counties best kept secret.  The Quitty gives those in Lebanon County a chance to go fishing and still make Church on a Sunday morning.  Its well stocked and fished hard.  Best chance of success is close to the days after trout are stocked.
My High School buddy (Larry P.) and I use to float the Quitty in the summer using inner tube.  The water stays cold all summer long.  This was back before it was a recognized trout stream.  A few times we floated and walked back to my house.  Those were the days when 13 year old boys could roam without worry.
LOGISTICs:
Lodging:   Several Hotels are found in Annville and Palmyra.  Many franchise hotels are located in nearby Hershey.
Food:  Palmyra and Annville have many great local Mom and Pop places to eat.
Pete's Favorite:  The Filling Station
https://foursquare.com/v/the-filling-station/4bf2ba6977b4c928aa956a1c
https://www.facebook.com/pages/The-Filling-Station/100880846623470
Funck's makes great breakfast if you beat the rush:  https://www.funcks.com/
Tackle:
Cobles Bait Shop.  Local Shop in Lebanon   http://stores.coblesbaitshop.com
Bass Pro Shop  Is along US 322 in Harrisburg
Dick's Sporting Goods is along US 22 in Harrisburg